So a while ago
my sister made this very same pattern - you can see her very sexy version here.
I loved it on her but generally thought it wouldn't be great for me because her and I have very different body shapes. However, I tried her version on and it fit me perfectly and I liked it on.... the fact that it fit me was really bazaar too.
She is a size 10 pretty much everywhere, mostly straight up and down, lovely long straight up and down legs, and side on much narrower than me.
I am a 12 and sometimes a 14 on the top, I go in and out (The Atlas calls them dangerous curves - I love that guy!), I have 'athletic looking' legs and I have very broad shoulders and I'm generally bigger side on.
She also has opposite colouring to me as well - anyone would think she belonged to the postie!! (My dad was a postie when she was born... so that's kind of an 'in' joke)
So I am surprised and thrilled that this pattern works SO well on us both. (I think it's perhaps slightly better on her). I would never have picked the pattern from the envelope either..... it's also a 'completely from stash' pattern. Zip - exposed, lining, fabric all in the stash and pattern borrowed.
And just for fun the round the house version - in my new Cath Kidston apron and The Atlas slippers! So stylish no? This is how I wore it for washing dishes, making tortillas, baking cupcakes...
Outfit:
Tights Farmers
Shoes - Rubi in Melbourne
Dress - Handmade New Look Workroom pattern 6070, fabric from Spotlight
Bangle - op shop Matakana 50 cents
Slippers - from Trade Aid
- everything from there is awesome
Joining in with Leonie
and Kelly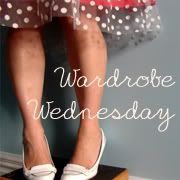 are you ever surprised by outfits or looks that work on really different bodies?