With 2.5 weeks left to pack my house, we really want to have it all out and sorted by Christmas Eve, I'm really feeling the urge to sew!
Yeah, very helpful especially as I still have Christmas gifts that need sewing.....
so here is my super, duper, polka-dotty, swirly aroundy new dress.
Which I love and I think it would be a shame not to have used the fabric before I left.
Styled up with favourite hair clip ever (made by Holly), op-shop shoes, a hand-me-down cardi, an on sale belt from Max and a bit of channeling my inner Marilyn.
Joining in here with other creative ladies
and here with other stylish hotties (on Wednesday)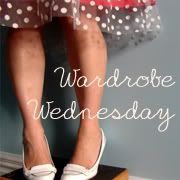 Love you more than the combination of navy, white and red xxx